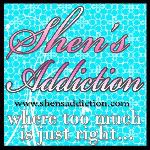 Yay!Yay! and Yay! (Triple Yay! :D) Okay, I might be overly excited, but can you blame me? Shensaddiction, one of my favorite Philippine beauty blogs is having her third anniversary celebration. And what better way to celebrate than to give it's loyal readers the motherload of all giveaways!!! :D Imagine winning cool products from major brands such as Pond's, Bobbi Brown, Avon, Kiehl's, Ellana, The Body Shop, Kerastase, Neautrogena, House of Obagi, Revlon, Sakura Bella, One Naturales, Clinelle, Maybelline, L'oreal Paris, L'oreal Professionel, Myra... just to name a few!
Actually, this is one of the blogs that got me started blogging. I never let a day pass by without having to drop by her site and see what she has to say. So Thank You Ms. Shen for this great contest and we hope you more years to come! Happy Anniversary!!
So for those who want to participate in this great giveaway, click this link and it will take you straight to the mechanics or, you may click her banner located on my sidebar. Good Luck y'all!!
http://www.shensaddiction.com/2011/03/contest-time-shens-addiction-3rd.html